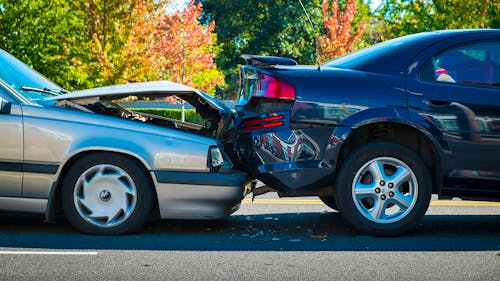 It happened! You've gotten yourself a motorcycle! Soon you'll be living out those Easy Rider fantasies you've had since you were a kid. Or maybe you'll pretend to be Ralph S. Mouse. We don't judge. Either way, it's time to leave the four-wheeled cages behind and take to the open road on your shiny new steel horse.
But before you jump on the Hog and head down to the nearest Hell's Angels clubhouse, you've gotta do a few things to prepare. First, gas it up. Second, get a helmet. Third, maybe rethink that Hell's Angels thing. And of course, you also need insurance.
The good news is that motorcycle insurance can cost a lot less than car insurance. The bad news is it still costs something. With all the other expenses - gloves, boots, a cool leather jacket, that helmet with a fake mohawk on it - it feels good to save money where you can. And one place you can save some scratch is insurance.
Who Has The Best Cheap Motorcycle Insurance
We got quotes from 4 insurance companies to get an idea of the range of prices you might encounter. We got quotes as a middle-aged married man who owns his own house in a suburb of Minneapolis. Our sample rider was buying a new Kawasaki, and will be a brand new rider when he gets it, but has a clean driving record. We'd point out that depending on where you live, what you pay for these options could vary widely, and even your options could change based on your state's minimum coverage requirements. Read more on your state's minimum coverage requirements here.
We quoted for liability only and state minimums where we could, although we did also quote much higher coverages just for comparison's sake. On that, we found that you will pay significantly more even within the same company if you want better coverage. For instance, a minimum quote from Geico ran $70 per year, whereas one that provides coverage more in line with what we feel to be prudent from a risk exposure standpoint would be $1040 and change.
GEICO
The home of the Gecko gave us the cheapest quote we got, at a paltry $70 for an entire year's worth of coverage. But that savings comes with some sacrifices you'll have to make in order to get it. One way Geico helps lower those premiums is to allow you to choose much lower limits for certain coverages. For instance, you can specify only $10,000 worth of property damage liability. It's pretty easy to get above $10,000 in damage when you crash into someone's car, so you're exposing yourself to potential payouts down the road if something bad happens.
Pros and Cons
Cheap! Like, really cheap!

Well-known, established insurance company. You'll probably get what you pay for.

Many discounts available.

Cheap policies cover less, obviously. If you specify coverages more in line with other companies' offers, your premiums will be more in line with theirs too.
Allstate
You might be in good hands with Allstate, but you're gonna cough up more money for those mitts. At $100 per year, it's $30 more expensive than Geico, but it also adds value, including 10 times the property damage coverage. We think that's a good thing. It's pretty easy to do $10,000 worth of damage to a modern car if you run into it. But with Allstate's $100,000 property liability coverage, you've got a lot more protection even if you ram into something expensive.
Pros and Cons
Almost as cheap as Geico, with better coverage.

$100,000 in property damage liability coverage means you're less likely to cause more damage than you're covered for.

Many discounts available.

While we think the price is reasonable, it's still almost half again more expensive than the cheapest option.
The General (Outsourced to Dairyland)
The General is somewhat famous for their intentionally cheesy commercials featuring a cartoon Army officer shirking the battlefield to sell insurance. And as the third-cheapest quote we got, that insurance is still pretty reasonably priced. But the gap between the cheapest and the third cheapest is pretty significant. You'd save a lot by switching to Geico. But you'd give up some coverage options as well.
Going with the General - which actually means going with Dairyland Insurance, as the General outsources for motorcycles - will get you the same $30,000/$60,000 injury liability coverages as Geico, but increases that company's $10,000 property damage coverage to $25,000. You'll get all that for $238.36 per year.
Pros and Cons
More coverage than Geico's lowest-tier option.

Well-known company with good reviews.

Allstate gives you more property damage coverage for less.
Progressive
At $284 per year, the most expensive insurance company we quoted isn't much more expensive than the third-cheapest. But Progressive's policy will add some important standard coverages.You'll kick that $30,000/$60,000/$25,000 liability coverage all the way up to $100,000/$300,000/$50,000. Progressive even throws in a few hundred bucks to replace damaged safety equipment like helmets.
But for just a few bucks more, you could go with an upgraded plan from Allstate that would include collison, comprehensive, under and uninsured motorist coverage with a $250 deductible, and it'd raise your bodily injury coverage to $250,000 per person, and half a million per claim. We think that'd be the way to go if you're already willing to spend over $200 more than the cheapest company we quoted.
Pros and Cons
Significant increase in minimum coverages over the lower-priced options.

Safety equipment replacement coverage.

Reputable, well-known company.

At this price point, it makes more sense to get a full coverage plan.
What to Consider Before Getting a Policy?
We advise that you shouldn't just call around and find the absolute cheapest policy you can find. Instead, think about the purpose of insurance, which is to shelter you from financial exposure. A wreck on a motorcycle probably won't do as much damage to the other guy's vehicle as if you were driving a large SUV, but on the other hand, you're likely to come away with a lot more damage dealt to your body.
Because of that, we'd hesitate to buy any policy that didn't at least pay for some medical bills, and we'd think long and hard about whether or not only getting liability coverage at state minimums was penny wise but pound foolish. It does not, after all, do you much good to save a couple hundred per year if you end up being personally sued for tens of thousands of dollars because your liability policy didn't cover all the damage you caused.
How Much Does Motorcycle Insurance Cost?
We found quotes varying from $70 on the extreme low end all the way up to a little more than $1,000 for some of the true Cadillac policies. Depending on where you live, what you're riding, and what your driving record looks like, among other factors, the prices you find could be very different from our samples.
Liability Only Cost Table
Fast Car Insurance Rate Quotes
Compare quotes from multiple providers to get a good deal.
Powered By:
How Can You Get Motorcycle Insurance Discounts?
There are several ways to save some dough when dealing with motorcycle insurance premiums. Many of them are the same or similar to money saving options for regular car insurance policies, such as being older, taking safety courses, and holding several insurance policies with the company. Here's a sample list of ways we could save money if we bought a Geico policy:
Transfer a motorcycle insurance policy to Geico from another insurance company (up to 10%)
Insure more than one bike (up to 10%)
Be older (up to 10%)
Renew a motorcycle policy (up to 10%)
Take a motorcycle safety course from the Motorcycle Safety Foundation (up to 10%)
Be a Motorcycle Safety Foundation instructor (up to 20%)
Insure a car with Geico at the same time (up to 5%)
Of course, if you do the math, it's theoretically possible to get 75% knocked off your insurance bill if you do all of these things, and we suspect it's not quite going to work out that way in real life! But it never hurts to ask.
There are other common ways to enjoy price breaks as well. If you make sure to get a motorcycle that has ABS, you'll often get a discount. Having anti-theft equipment like alarms also often qualifies you for a price reduction; installing a LoJack tracking system frequently gets you even more money knocked off.
It's important to ask! Start on a company's website and search for discounts to get an idea of what might qualify. Then ask your agent for more discount possibilities.
How to Decide What Coverage You Need?
At Car Talk we usually look suspiciously at state minimum coverage requirements. We feel that often, those limits are set far too low. For instance, the $30,000 minimum bodily injury liability requirement in Minnesota is, we feel, financially risky. It's not inconceivable that someone you run over on your motorcycle could hit state minimum charges almost before the ambulance delivers them to the ER.
If your victim needs to be airlifted to the hospital, it's almost certain that'll happen; Helicopter trips in air ambulances can cost $50,000. Whatever your policy doesn't cover, you can find yourself personally liable for. That's why we feel policies should be aimed at likely real world costs rather than state minimums for savings.
Read more on the Best Motorcycle Insurance in the industry here.
Read more on the Best Motorcycle Shipping Companies here.
FAQ
Why is motorcycle insurance cheaper than car insurance?

Motorcycles are cheaper, and do less damage when they hit things. They're also less likely to be ridden in adverse conditions; you probably aren't going to ride your motorcycle around in a blizzard, but you will drive your car through it.

Is cheap motorcycle insurance any good?

It depends on how you define good. Will the company pay what it says it'll pay? If it's a reputable company, probably. But will that be enough? That's considerably less likely.

Who has the cheapest motorcycle insurance?

In our survey, GEICO came out as the lowest quote we got. But your quotes might vary based on several factors. We recommend doing your own legwork to get your own best price.

How much should motorcycle insurance cost?

Policies can run from under $100 per year to over $1,000 per year, depending on how much coverage you want. Rather than focusing on the premium cost, we'd recommend you focus on what kind of coverage you should have, then price policies based on that.

Can you pay motorcycle insurance monthly?

Yes, but you often get a discount if you pay for a whole year at once.
Editor's note and disclaimer: Car Talk is supported by our fans, readers and listeners. When you click on some of the links on our website, we may receive referral compensation. However, you should know that the recommendations we make are based on our independent editorial review and analyses.