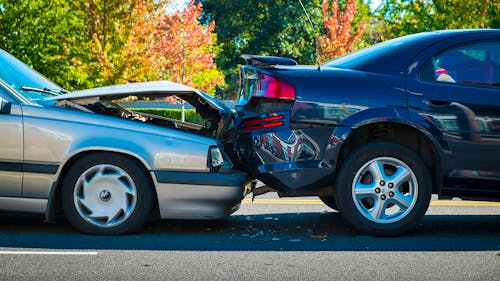 On the whole, insurance rates in Atlanta, Georgia are only slightly above the national average. This is true of most cities where population density becomes a factor in costs. Compared to many cities in the U.S., however, Atlanta fares well in automotive insurance rate costs. Finding the best deal on car insurance in Atlanta is just a matter of shopping around.
See our overall recommendations for Best Car Insurance
Who Has The Cheapest Car Insurance in Atlanta, Georgia?
GEICO
Nationwide
State Farm
Progressive
Allstate
Looking at several sources and pulling quotes from most of the insurers in the Atlanta area, we averaged totals based on several criteria. Our averages are for a driver aged about 40 with a clean record, no accidents, and average credit rating. We received quotes for both male and female drivers and for several postal ZIP codes in the greater Atlanta area. We used common vehicles in common automotive segments to include midsized sedans, midsized SUVs, and full-sized pickup trucks. Your exact situation will mean differences in these numbers when you get your own quotes, but these should act as a good guidebook as to where to get started.
DISCLAIMER: There are numerous other factors that are going to impact the cost of insurance on your car, crossover, or truck. We'll provide info on some of those variables, but your best bet is to read our deep dive on Cheap Car Insurance for 2021 to get a better idea.
Fast Car Insurance Rate Quotes
Compare quotes from multiple providers to get a good deal.
Powered By:
Who Has The Best Cheap Car Insurance in Atlanta?
Best Large Insurance Carrier: GEICO - Almost across the board, GEICO had the lowest prices for quotes in all categories.
Cheapest Insurance from a Smaller Carrier: Country Financial - Our lowest bottom line quote was from this company, which is based in Illinois with branch offices in Georgia. This company began as a farmer's cooperative and has grown for over 100 years to become a locally-based, but national insurer.
Cheapest Insurance with One Accident: GEICO - This national carrier had the lowest average rate increase (about $400 per year) per accident on record than did any other insurer.
Cheapest Insurance for Higher Mileage: USAA - Though not everyone qualifies for auto insurance through USAA, they have the lowest overall costs for some things such as high-mileage usage. Next in line after USAA was GEICO, which was less than $60 more per year.
How Much Does Car Insurance Cost in Atlanta, Georgia?
In our larger story on car insurance, we found that a national average for auto insurance was $1,341. In Atlanta, the average cost is about $450 more than that. Higher accident rates due to the greater congestion and tighter parking in Atlanta itself are to blame for the increases. Yet many insurers come in well below that average.
(*) The "adjusted average" is computed by eliminating the highest and lowest values and averaging the remaining values.
What Causes Rates To Go Up in Atlanta?
The Atlanta area has a wide variance of accident and theft rates. Some areas of the city and surrounds have higher rates than others. For example, costs are far higher in Cascade Heights than they are in Riversong. Beyond that, differences are largely about your specific situation. Auto theft rates are also a big factor, with Atlanta having the fourth-highest rates in Georgia and the 67th highest rates in the country (by city).
How Do Accidents Affect Rates in Atlanta, Georgia?
Having an accident on your record in Atlanta can mean an increase in rates. Making an insurance claim for an accident can also have the same effect. The highest insurance rate increase for an accident (not including drug or alcohol related accidents) in Atlanta is about 65 percent. Most can expect to see a rate increase of 34 percent after an accident. Those who are convicted of a DUI (impaired driving) can expect a rate increase of 50-120 percent.
Some safety technologies that can mitigate crashes or even avoid them, such as forward collision warning and automatic emergency braking can reduce your chance of an accident and thus your rates. Bear that in mind when research an automotive purchase.
Keep in mind that this is a guide. Your actual rate increase could vary a lot, especially if you've enrolled in an insurer's optional "Accident Forgiveness" program, which allows you one accident without being surcharged.
How Do Tickets Affect Insurance Rates in Atlanta?
Most insurance companies see moving traffic violations as a harbinger of dangerous driving habits that mean an increased likelihood of an accident. Thus they raise rates for tickets on a driver's record.
How Can You Get Car Insurance Discounts in Atlanta, Georgia?
There are hundreds of discount programs and offers available for automotive insurance in the U.S. We have a fully inclusive listing of those offers in another story you can find here. Examples include military or civil service, memberships in certain organizations, some career choices, and several associations. Even having good grades as a student can help.
In Georgia specifically, however, there are no state-mandated insurance discount programs currently active.
What's The Minimum Coverage Required in Atlanta?
The minimum coverage requirements for auto insurance in Atlanta is pretty low by national standards. Drivers are required to have body injury liability at up to $25,000 per person and $50,000 per accident as well as property damage liability at $25,000 per accident. In addition, insurance companies are required to offer uninsured motorist coverage, but drivers may waive this coverage if they wish.
Fast Car Insurance Rate Quotes
Compare quotes from multiple providers to get a good deal.
Powered By:
FAQ
Who has the cheapest car insurance in Atlanta?

While costs can vary widely according to situation, our analysis above found that overall, GEICO tends to have the lowest-cost coverage in Atlanta.

How can I get super cheap car insurance?

Outside of living in less costly areas and cities, the best way to lower car insurance rates is to maintain a clean driving record, have good credit scores, and keep accident claims to a minimum.

What is the cheapest online car insurance?

GEICO generally has the lowest quotes for online queries.

What's important in a car insurance company besides the rates?

Response times, payout times, and customer service. Sometimes the lowest cost can mean the lowest amount of service as well.

Does credit score affect car insurance?

Yes. In Georgia, car insurance companies may include credit scores as a metric when determining both eligibility and costs. In some cases, having a good score versus a fair credit score can mean $200 or more in savings.

Is there low income car insurance?

No, Georgia does not have a low-income car insurance program.

Can I buy one day car insurance?

Single day, single use, or temporary insurance is available in Georgia. If you have an existing automotive policy, however, it may be cheaper to temporarily add the temporary vehicle to that policy for a month versus paying for a separate, temporary policy.

How can I get my insurance quote cheaper?

Ask about discounts and programs. Sometimes, just asking about rates from your current insurer can result in lower costs as the agent finds more discounts you're eligible for or finds new rate options in order to avoid your going to another insurer.

Why is my insurance so high with no accidents?

It is most likely a factor of where you live and its accident and theft rates versus other nearby areas.

Is an older car cheaper to insure?

Usually only when insuring the car itself and not the liability for accidents it could have. In other words, if you are getting comprehensive coverage on an older car, it may be cheaper, but the liability towards other vehicles and property in an accident would not.
Editor's note and disclaimer: Car Talk is supported by our fans, readers and listeners. When you click on some of the links on our website, we may receive referral compensation. However, you should know that the recommendations we make are based on our independent editorial review and analyses.